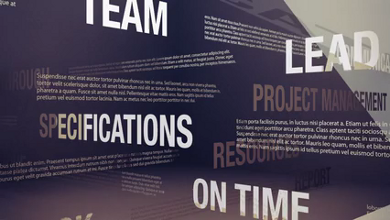 Risk Management:
Unlike our competitors, we are ITIL certified and apply a strict project management process to your website design and development. Thus ensuring that the scope of the project and any changes occurring along the way are properly managed, to guarantee that the project results in a release which is up to your initial expectation, both in term of budget and schedule.
Because every project involves risks, we identify those and define contingency measures to prevent such risks.
Our competitors won't talk to you about risk management. Not only they do not assess and handle risks, they think that the best answer is acting like if there wasn't any! FOJ Project will provide you with risk assessment, agenda and minutes reporting, project plan and change management log, to ensure that your website's release truly reflects the technical specifications that you have validated with us. Our project management methodology is an assurance that with us, you will get what you expect!
P
rojects are becoming increasingly complex to design, deploy, secure and manage; requiring a strong level of expertise to execute them proficiently. Throughout the process, our IT project management team focuses on delivering trouble-free implementation and minimal disruption to your business. As a SOHO company we can deliver your requirements expediently, from commencement of your project, or at any stage in the project life cycle. We are able to work across disciplines and verticals to give tailored solutions, regardless of size or geography.
Change Project Management:
Through our shared services model, ITIL, ITSM and cultural transformation capabilities. We ensure that changes are managed and controlled systematically, thus minimising any undue disruption to IT services delivered to the customer.

 
Web Project Management Experience:
We already possess some experience in working on projects such as operational internal web-based applications including: service portal, content management and assessment software, retail point-of-sale, healthcare applications, education, and the web-based electronic shopping cart solutions for companies programming using Microsoft technologies (.NET and SQL Server), Java and CMS (HTML5, CSS3, PHP, AJAX). FOJ Project involves a team of professional visual designers who will be responsible for designing a new website for your company. We usually involves up to several visual designers from the pool of our resources and contacts to promptly determine and create visual designs that will meet your specific needs.
Projects Include:
The services we provide to our customers cover a wide range of fields in Information Technology.
Project Management
Web Design - Corporate site
Application Development (Web App/Mobile App)
Web Content Management
Extra/Intranet
System Analysis
System Integration
Whether managing a large project or assisting with a short-term task, our staff always ensure that clients receive high quality output in shorter timescales and at a lower cost.